Introducing Toggle Buttons
Paul Oliver
February 08, 2017
To understand the benefit of toggle buttons, we'll outline the problem they solve.
When doing video analysis, it can be difficult to know how long a moment will last in order to properly mark it. Our standard buttons help you mark the approximate length of the moment, but aren't always precise when moments are longer or shorter than the button length.
Toggle buttons help solve this issue. Toggle buttons allow you mark the beginning of the moment when pressed once and mark the end of the moment when pressed a second time.
How to Get Started With Toggle Buttons
You can create new buttons or make any existing button a toggle button. When creating or editing a button, simply check the box marked Use as a Toggle Button. Then, when you need to mark a moment using the toggle button, you will be able to manually and precisely mark the exact length of the moment.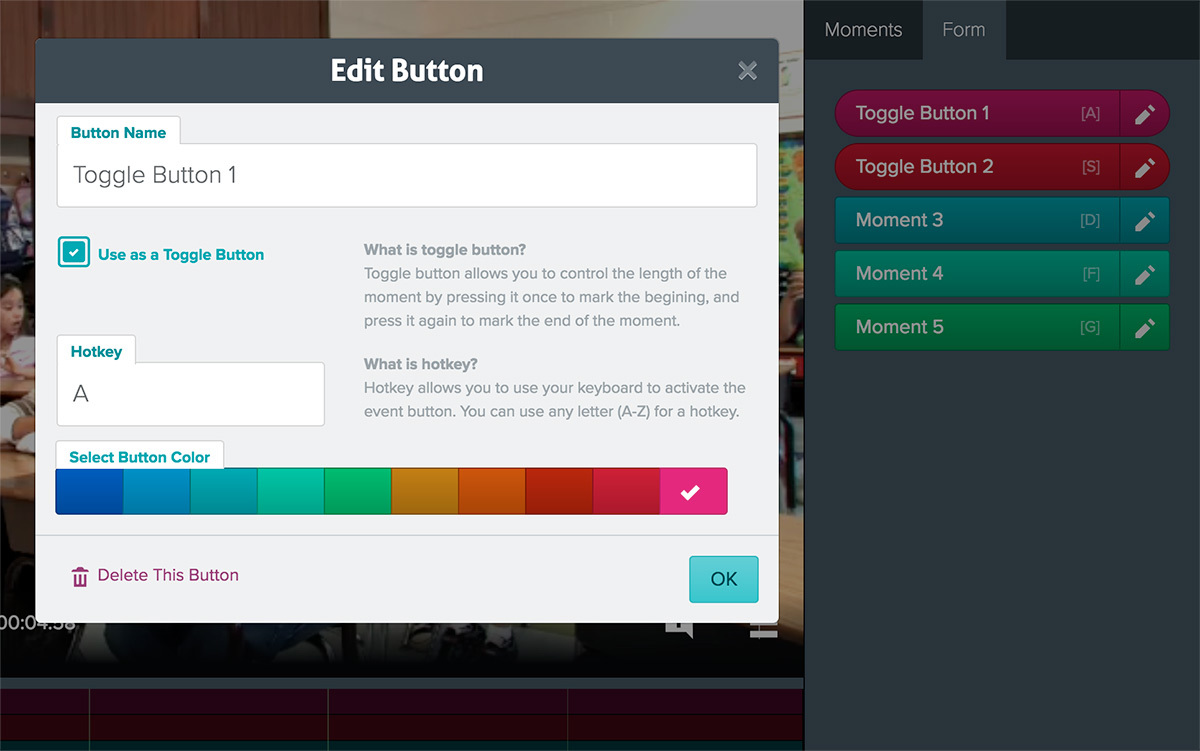 Toggle buttons can be easily identified on your form as the buttons with rounded edges. If you change the button back to a standard button, it will recover its sharp edges.
It's important to know that if you are using toggle buttons regularly, you can make them part of a Form. Any video using that Form would change to include the toggle button settings you've selected.
Frequently Asked Questions
Can I make all my buttons toggle buttons?
Yes, you can make all buttons toggle buttons. Remember to finish toggling each moment to save it.
Can I use two or more toggle buttons at the same time?
Absolutely. Just like with standard buttons, two or more can be active simultaneously.
When is the moment saved?
The moment is not saved until the toggling button stops toggling. If you navigate away from a video while a toggle button was active, the moment will not be saved.
Is there a button or hotkey I can press to stop toggling all toggle buttons?
Not yet. This feature exists in Studiocode, which will stop toggling all buttons when you press the Tab key, but that key is used by browsers for navigation.
Log in to your account and give toggle buttons a try today. If you don't have a Vosaic account, you can start a 14 day trial for free.